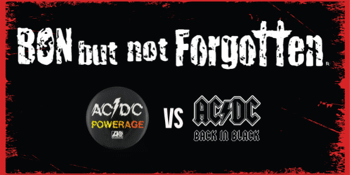 Behind Pty Ltd presents
Bon But Not Forgotten - Powerage Vs Back In Black
POUNDCAKE - The Van Halen Show!
Charles Hotel (North Perth, WA)
Friday, 1 July 2022 7:00 pm
POWERAGE VS BACK IN BLACK! TWO ALBUMS PERFORMED IN FULL plus some classics!
The seminal fan favourite vs the tribute to Bon!
It will definitely be a High Voltage event when BON BUT NOT FORGOTTEN, the ultimate AC/DC Tribute Act head out on a Nation-Wide run of shows, commemorating the 76th birthday of the legendary Bon Scott.

BON BUT NOT FORGOTTEN assembles some of the world's greatest rockers to perform the iconic hits and to pay tribute to the iconic first voice legend behind one of the world's greatest bands, AC/DC.

These shows will be special with the band performing, fan-favourite, "Powerage" in its entirety along with a selection of Bon classics.

This is a super-charged high energy electric band that has featured some iconic musicians from around the world, including artists from: AC/DC, Cheap Trick, Ugly Kid Joe, The Poor, The Choirboys, Jimmy Barnes band, The Angels, The Screaming Jets, Baby Animals, Rose Tattoo & many more! The 2022 tour features special guest vocalists and James Morley (The Angels) and Bobby Poulton (Wolfmother).

If it is vintage AC/DC you love then this band is the closest you will get to that authentic sound, performer by some of the best musicians we have to offer.
Special guests on all shows are Poundcake: The Van Halen show.