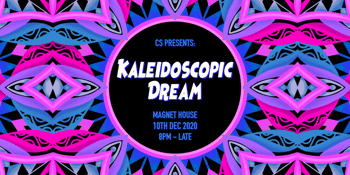 Chinese Society
Kaleidoscopic Dream
Magnet House (Capitol) (Perth, WA)
Thursday, 10 December 2020 8:00 PM
CS PRESENTING.... KALEIDOSCOPIC DREAM
Hello everyone! After our sell out event we are back with our final event of the year
Come celebrate the end of exams and have a toast with our:
KALEIDOSCOPE THEMED DRINKS
PROFESSIONAL PHOTOBOOTH
BOWLING ALLEY
DRESS CODE - Anything colourful!
How to get tickets
Ask one of our friendly committee members!
Message the CS Facebook page
Buy HERE on Oztix
MUSIC BY ....
YUNG SLY
Jaymee Franchina
DJ Chowwy VS DJ Aaron
Ashstylez
Our dreams captures by...
T.LE Photobooth & Photography
Vendor Media
Rift Photography
This is an 18+ event only, so please don't forget to bring your ID and drink responsibly as always
*Tickets go live 6pm 13/11/2020*
We hope to see you there
Much Love,
CS Committee xoxo