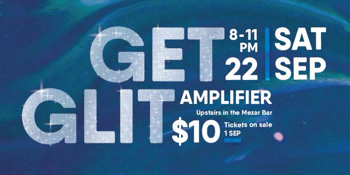 Black Box Social Club & ECU Guild present
Get Glit
Amplifier Bar (Perth, WA)
Saturday, 22 September 2018 8:00 PM
We've got exciting news! Black Box Social Club is premiering their FIRST event at the Amplifier!



In affiliation with Edith Cowan University Student Guild, Black Box is throwing a GLITTER themed party!

We think you should be there.

Come enjoy a night with a boogie, shower yourself in glitter and live that extra life that you know you deserve.

A LITTLE ABOUT US…
We are a student run group who are inclusive of all ECU students with a shared interest in media and the arts.

Our mission is to bridge the gap between WAPPA and other ECU students, creating positive relationships and a welcoming environment on campus.

OUR GOALS
To raise $10,000 and broaden people's knowledge of the creative industries. We aim to organise and fundraise for our fellow WAPPA students.

OUR OBJECTIVES
We promise to hold fun and safe events for students at ECU to encourage strong student relationships.

We promise to foster young creatives in the arts and media industries.

We promise to work with and support local businesses and other social clubs to enrich our events.